Testimonials
Indu Taapkir, (Chef, Pune, India)(Aug 2008)
I have never sat in one place for more than 10 minutes. Today I sat in front of this painting for 2 hours. I can see the colors moving all the time. Before I sat here, I was extremely distressed. Within few minutes I felt relaxed, almost forgot my problem. I see a figure and a 'nandi' in the painting. And I cannot stop looking at it.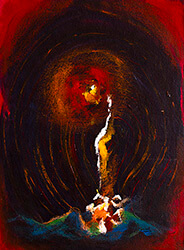 Painting No. 79
S.Kashikar. Business Development Manager - at Schlumberger, Houston, USA (May, 2008)
I have a couple of paintings that I have placed in key spots in my office. Looking at the paintings for few minutes helps me focus and center my mind when I need to concentrate. It makes me grounded and get in touch with my inner self. I am enjoying my work more as this practice has reduced the overall work related stress levels as well helped with my creativity.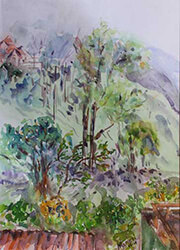 Painting No. 31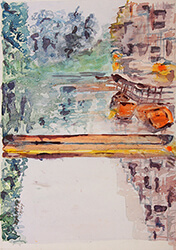 Painting No. 34
Prasad Bahirat - Patil, Builder. Pune, India(July, 2009)
Your 'Kedarnaath' temple painting makes me feel alive. Whenever I look at the temple in the painting, I feel I want to visit this place though /I also feel, I visit this place every say when I look at it. I never have had such experiences ever. I am a very practical person by nature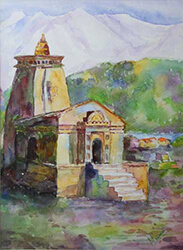 Painting No. 19
Smita Wankhede, Healer. Nasik, India (June, 2008)
I love mountains and when Manasi gifted me the beautiful painting of the Himalayan mountains, I was elated, more so as it was a gift for my realizations. Whenever I look at the painting, I am actually at the beautiful site where we had camped. She painted it within a few minutes. I know she was just being in the now while doing it and connecting UP there, while the painting has brought the energy in it, as into every of her paintings. The painting took the most important place in my house, just above bed. And I believe my life has changed since then. The feeling of actually having a solid support has come into us. All our issues and pending matters have moved ahead and the stagnated feeling completely gone!. I can feel the energy emitting from it and filling my entire home. Hats off to Manasi for being such a spontaneous artist. What makes me more happy is that I predicated more than 30 years back that this is what she would be doing when she was doing it no longer then. Best wishes and love.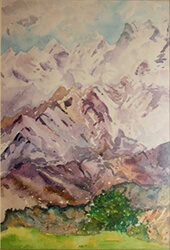 Painting No. 37
Prakruti Jain, Skin O Hair, Designer. Pune, India (Dec, 2009)
When I see your paintings they look normal in the first glance and when I see deeper it starts looking like a kaleidoscope of images..images within the image comes forth thereby giving a lot of meaning and depth to the painting.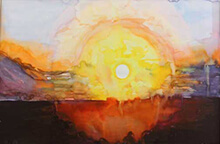 Painting No. 29
Amaresh Mehta, Environment Auditor. Ahmadabad, India (Dec, 2010)
Manasi's paintings have the ability to render a lot of calmness and serenity. Some paintings have Vaastu correcting impact. All the 'mountains' can do wonders in the south sector of any place. It can enhance the overall support value in the life of a person. Your decision making ability becomes sharper. You feel more secure. One can see things from the right perspective. Which helps bring more prosperity.
The 'water' paintings, when placed in the north sector can create abundance of wealth, health and peace.
The 'sun' 'Om' ones, when placed in the east sector can bring joy and happiness.

Painting No. 30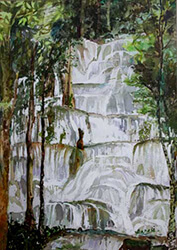 Painting No. 11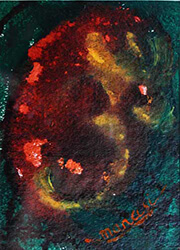 Painting No. 114
Vrushali Sangale, MBA, Homemaker. Pune, India (Jan, 2010)
When I happened to be in the company of these paintings for 3 days, during Manasi's exhibition, it was my 6 th month of pregnancy. I had a feeling that my baby is being nurtured with these divine paintings around me. When I went back home after 3 days, unknowingly, my eyes were searching these paintings.
I was inspired to paint and finally, I sat down with color pencils to reclaim my lost talent. Every time I look at the paintings, I feel it is new to me. Well, I love the images I see in the paintings.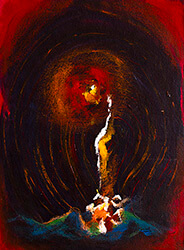 Painting No. 79
Gaurav Sangale, Software-Networking Expert. Pune, India (Jan, 2010)
I connect to Jesus Christ. I love it.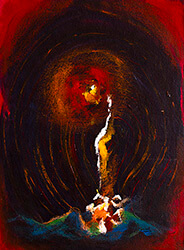 Painting No. 79
Nilima Dhamdhere, Beautician. Pune, India (Mar, 2010)
Your paintings are a challenge for the creativity within

Suruchi Mohta, Singer-Composer-Poet-Event Designer (Apr, 2017)
I am the proud owner of two of Manasi's paintings. They are of the 'OM' series. The twin paintings are brown-black and green in colour and have a deep meditative experience about them. The first brown-black one has one solid OM in the centre, with several OMs swirling around like Sufis in Sema. The central OM is embedded deep inside the brown soil, as if carrying a seed in its womb. Sometimes it looks like several Ganeshas, at times like one Ganesha, and sometimes like the depth of a dark universe which carries many possibilities within itself- a potential of the human journey towards God-hood.
And then, suddenly as the seed sprouts, and one sees life peeking out of the dark dungeons of despair, comes the second painting of OM, a bright green colour. This one has only circular strokes of a vivid, lush pasture green signifying hope, abundance and life. The 'potential' is now 'manifest', in three bold circular OMs with a fourth one forming the tail.
I have placed both these paintings at my main door entrance. Somehow since then, I feel that only the people who are meant to walk into my space find their way to my house. These two paintings are like the 'Dwaarpaal' of my house, my security or 'Suraksha Kavach'. Everytime I, or anybody else walks in or out of the house happens to see them, and gets enveloped into the warm blanket of peace and harmony that they offer.
Manasi is an intuitive artist who can experience energies and their movement. Her paintings are more than just 'art-work'. They are 'life-work'.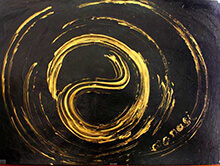 Painting No. 49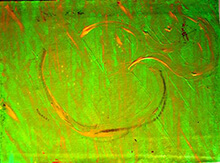 Painting No. 86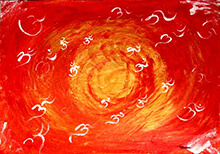 Painting No. 87
Tejasvita Apte, (Law Student, Pune, India) (Feb, 2011)
"When I saw Manasi'sPaintings,at the Darpan art gallery, Pune, I was inspired to write the following poems instantly, at the exhibition itself. I felt the poet in me took a sudden re-birth".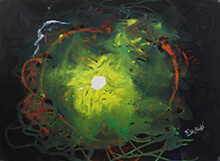 Painting No. 51
From deep within,
I jump.
To fall forever
Into the internal infinite……
My life thus, attains 'Moksha'!.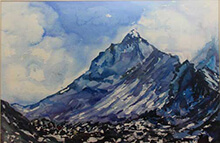 Painting No. 35
You reach within, Saviour!
Deep within each of us,
There is a 'You'
Why is it then, that we
Seak you outside?

Painting No. 50
Sometimes it so happen,
That I over take you….
My dear lord! Rest assured,
My soul's final journey would be towards you…
Me ultimate tryst !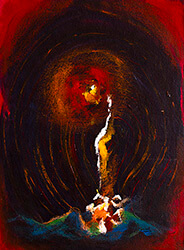 Painting No. 79
You touched why soul, O lord!
Let this touch be an eternal companion….
Let this touch lie, an external Guru…..
Let this touch take me to you… in the final Embrace!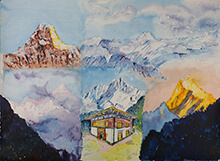 Painting No. 130
Take we to you…
From chaos to peace
From conflict low balance
From symbols, to the only God – My soul – Deep within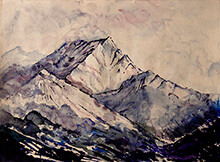 Painting No. 129
To rise above 'me'
To rise towards 'us'
To attain the peace.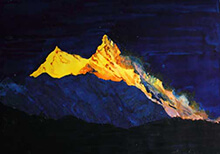 Painting No. 46
You stand alone,
O dear mountain – ever so high !
Only to glance lovingly at me…
Your eternal child….
Your lover….
Your River….